Guinean brothers spread African flavors and soul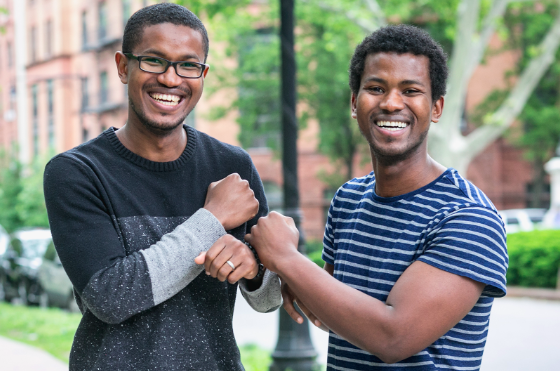 [Guinean brothers Mohammed and Rahim Diallo, founders of Ginjan Bros, Inc. in New York in 2019. | photo courtesy of Ginjan Bros, Inc. ]
Immigrant brothers who went viral, strive to normalize African flavors and culture, starting with a branded, best version of their favorite traditional ginger drink, made in Harlem, NY.
By Devorah Lauter
It had always bothered Guinean brothers Mohammed and Rahim Diallo that African culture was under-recognized for its worldwide, historic influence. The duo, who emigrated to the US on their own as teens, a story made (world-) famous in January by the social media account, Humans of New York [HONY], decided to act. They created Ginjan Bros, Inc. in 2015, based on the West African ginger drink they had grown up with. "Our whole vision is to make African culture – African flavors, but not just food, everything – an integral part of global culture," said Rahim over a Zoom call.
An immigrant story of hardship and perseverance
That vision is inching closer to becoming a reality, largely due to the brothers' newfound fame. HONY's broadcast captivated their nearly 12 million followers on Instagram, who commented in their hundreds of thousands on the Diallo's distressing but hope-filled immigrant story of perseverance. Yet despite all the heartache and hardship, the young brothers eventually launched their online shop and Ginjan Café in Harlem, New York, which serves their signature Ginjan and African cuisine. In the days following the 12-part Instagram posting, Ginjan Bros' orders rose by about 400%, causing their online shop to crash.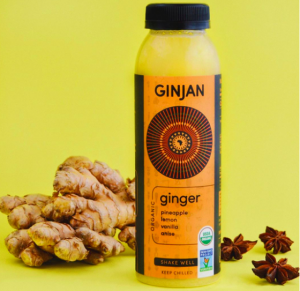 Despite the initial technical mishaps and delays – including unprocessed payments – and while the company could not discuss turnover at the time of publication, the brothers hope introducing Ginjan to so many first-timers will increase the brand's community of loyal customers. "The most important thing about this is not the money we'll make this time around, it's that we're convinced that those who bought it will definitely come back and buy again," Rahim said.
"Community is what creates culture, and it is foundational to our brand," added Rahim. "We want African culture and flavor to be as normal in any city you go to as Starbucks." Rahim said he and his brother now plan to build production facilities in Africa for Ginjan Bros, and eventually to offer similar infrastructure, which they say is lacking, to other African entrepreneurs. "We see this as a way for us to build a consumer-facing brand that gets known better, and we can leverage that to give African entrepreneurs and farmers a way to plug into the global market. Sort of like what Alibaba did for the small business owner in China," said Rahim.
Inspiring young Africans to be proud of their culture
Rather than pursuing Western cultural norms, Rahim says their goal is to "inspire people – especially young Africans – to take pride in their culture, in what they grew up with. And to understand that everything that's mainstream, that they aspire to have or consume, is someone else's idea of what should be out in the world. It's someone else's childhood memory. We want them to see that their own ideas are worth contributing – something that others can embrace."
That's precisely how Ginjan Bros was born. While in the US, the brothers missed the popular ginger drink from home, frustrated that a good or reliable version couldn't be found in New York's small shops catering to the African diaspora. After the loss of Fatou, their sister, to sickle cell anemia, and their father to cancer, they decided to make their own (branded rendition) drink.
As good as Mother's original recipe?
What is ginjan, exactly? "The core of it is slightly sweet on the tongue, but spicy when you swallow, and just delicious and refreshing. On top of that, it's fantastic for gut health, and is a really powerful anti-inflammatory," points out Rahim. Versions of ginjan can be found in almost every West African country and beyond, but the brothers' recipe offers the first branded rendition. It is an adaptation of their mother's original drink, with suggestions from countless others who shared their tips for its preparation. With its ingredients of fresh ginger, cold-pressed pineapple, lemon, vanilla, anise, and organic cane sugar, "we made the best version we could possibly make," said Rahim. "But I wouldn't want to say that to my mom," he added with a smile.
Customers seem to agree, with glowing reviews online, for both Ginjan and the other African beverages and foods served at the café. Their success is also due to one other ingredient that is harder to bottle. Ginjan Café "has real soul," says Rostam Zafari in a review. "It's an immersive experience I recommend to anyone who enjoys discovering new and delicious drinks, as well as the old familiar glow of real community," writes Zafari.
The brothers are poised to open their second café in Brooklyn, and plan to build a children's park in Guinea, a dream project of their sister Fatou.