Sub-Saharan Africa: a landmark architectural guide that Africa deserves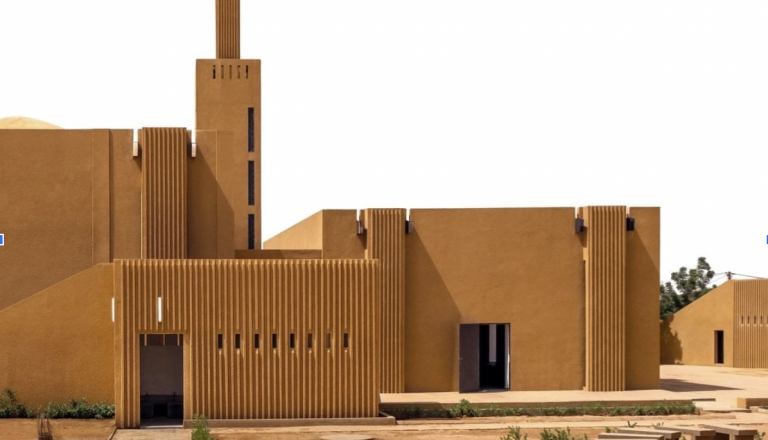 Dandaji, Niger, where a derelict mosque was transformed into a library that shares its site with a new village mosque. | Atelier Masomi, Instagram: @dompublishers
Michael Sommers
Architects Philipp Meuser and Adil Dalbai discuss the challenges involved in producing and editing the recently published groundbreaking Sub-Saharan Africa Architectural Guide.
"If you walk into a kindergarten class in Germany and ask the children to draw an example of African architecture, they'll draw an adobe hut with a thatched roof."
Architect Philipp Meuser is discussing one of many insights he and his co-editor and fellow architect, Adil Dalbai, have gained while researching, producing and editing the  Sub-Saharan Africa Architectural Guide. Independently financed and published in 2021 by Meuser's Berlin-based publishing house, DOM, the seven-volume guide is as groundbreaking as it is epic with 200 articles from more than 350 contributors, featuring 850 significant buildings from 49 African countries. To refer to the project – which took over six years to complete – as ambitious is an understatement.
More impressive than the numbers are the discussions the guide has engendered – which is where Meuser's reference to German kindergartner's artistic intuitions comes in.
"One of the most surprising things I took away from this project is that even though German colonial history in Africa ended 100 years ago, colonialist terms are still embedded in our language – and we need to erase them."
Challenging Misconceptions
Adil Dalbai concurs that in the West there are multiple misconceptions surrounding African architecture, beginning with the notion of whether African architecture exists at all.
"More than a single misconception, there's a fundamental lack of knowledge," he explains. "Although you have some very specific expertise, most people are very surprised in terms of the fundamentals of how an African city looks, the built realities."
Of prime importance to the editors is to clear up such misconceptions while promoting a new dialogue on African architecture, including potential solutions for problems ranging from urban sprawl to slum agglomerations. Their guide embraces not only a vast diversity of styles – from traditional and colonial to modernist and contemporary – but also a plurality of voices and backgrounds, from renowned U.S.-based scholars to young local architects working in remote areas of the continent.
A Whole Mosaic
A major challenge was balancing 49 country chapters, each with its own authors, each ultimately comprising an autonomous book within a book. Says Dalbai, "We didn't want to harmonize the voices, but we did want the guide to have a clear structure so that readers don't get lost amid the 3,400 pages."
The desire to make a beautiful guide with striking images that would appeal to laypeople posed further challenges. "It wasn't always easy to get high-quality images," admits Dalbai. "South Sudan, for example, is in the midst of a civil war. In other areas, it's prohibited to photograph public buildings and police control is strict." Dalbai says that he and several other contributors were arrested. "Sometimes it took some persuasion," he adds.
With such a wealth of material, the editors added an extra volume, a theoretical and historical overview of contemporary architecture across the continent, unprecedented in its scope. Previous works about sub-Saharan African architecture have "just been fragments of the mosaic," says Meuser.
"Although we didn't fully succeed in revealing a whole mosaic in its entirety, we hope others will be motivated to continue with similar projects. That's what Africa deserves." 
Copies of the Sub-Saharan Africa Architectural Guide will be donated to African architecture schools and their libraries via the Architecture is Free Foundation, providing students with free access to the guide. 
The Sub-Saharan Africa Architectural Guide is also currently available for purchase via DOM's webshop for 198 Euros (excluding shipping).